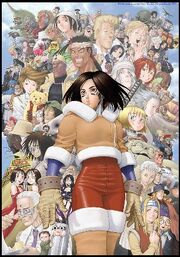 This is a list of every character that has ever appeared in or been mentioned in the manga (Battle Angel Alita, Last Order, Gunnm: Another Stories, Ashen Victor) or in other media (the OVA and novel). Entries are sorted alphabetically by last name. Characters who first appeared in Battle Angel Alita are in Battle chapters, while those who first appeared in Last Order are in Phase chapters. The list includes groups of unnamed characters.
Individuals
Edit
Unnamed individuals
Edit
The following characters were not named.
Groups of unspecified size
The following groups have an unspecified number of members.
Community content is available under
CC-BY-SA
unless otherwise noted.